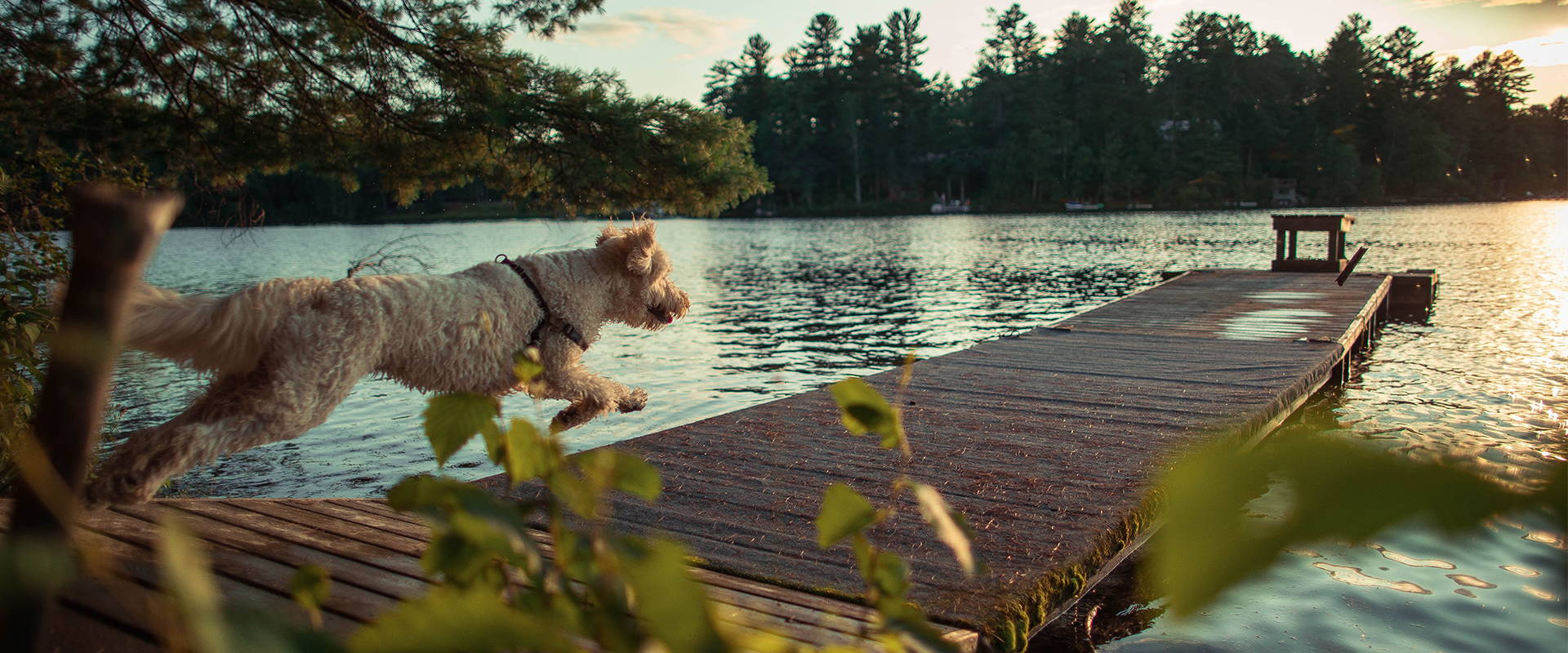 5 Must-Haves for a Lake Vacation with Your Dog
Summer means heading to the lake and enjoying swimming, kayaking, and relaxing by the water. And if you're a dog lover there's a pretty good chance you're going to want your dog to join you. But planning a lake vacation with dogs can be stressful: what does my dog need to be comfortable and safe? And what do I need to be able to relax and know Fido's taken care of? Check out our five must-haves for a doggie lake vacation to ensure that everyone has a fun and safe time.

Floating Waterproof Dry Bag
Gotta make sure your dog's food doesn't get wet while you're having fun. That's why we never head to the lake without our floating waterproof dry bag. It's perfect for any activity where water's involved, and it also keeps other critters out that come looking for your dog's food. Dry bags also float once sealed making it easy to keep track of your gear in the water.

Dog Raft
Most of us dog lovers want our pups with us in the water. They're fun to have around, and swimming is fabulous exercise for them because it doesn't put stress on their joints.  However, most dogs tire out pretty quickly, but they still want to hang with us in the water.  People rafts, which are generally inflatable or made of a spongy material that floats, are easily destroyed by dogs attempting to climb on them to rest or to be close by. It is puncture-resistant to keep your dog from destroying your favorite raft. It's also semi-submersible so your dog can stay cool with easy on-off for independence. Our dog floats are easy to drain and have a loop for tie-off from a boat or dock.


Swimming Life Vest
A life vest is essential for keeping your pup safe at the lake. It protects them from accidental mishaps and helps them feel more relaxed while swimming. We suggest looking for one with bright colors or reflective trim to make your dog more visible. A couple of other important features include a handle so you can grab your dog if necessary and a D-ring so you can attach a leash to the vest.

Pet first aid kit
You never want to head to the lake without a doggie first aid kit. If you're in a remote area, the nearest vet may be miles away, and you want to be able to take care of your pup if there's an unexpected emergency. Hopefully, that will never happen but you will have better peace of mind knowing you have one with you. Many kits also include materials for insect bites and tick removal.
Canine Sunscreen
Lastly, sunscreen may not be the first thing you think of when packing to take your dog into the great outdoors, but it turns out dogs are susceptible to overexposure to the sun just like their humans. Using sunscreen made for pups can eliminate sunburn and skin irritation. When looking for one, be sure to find a sunscreen that is non-greasy so your dog's fur doesn't feel sticky. Our choice is Bodhi Dog Sunscreen, which has moisturizing shea butter and jojoba butter.

Taking your canine friend to the lake can be a blast. Making sure you have the right gear will ensure that your pup feels safe and secure and that you and your dog enjoy the water!